Super Glue Liquid Control
Features and Benefits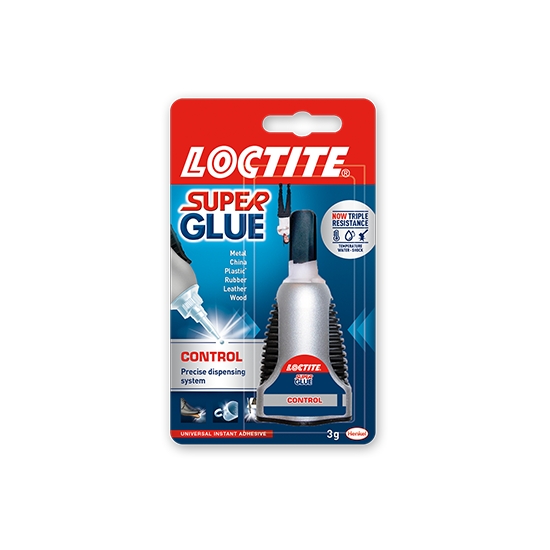 Loctite's versatile and reliable Super Glue Liquid is fast and strong and has a range of applicators that will get the job done quickly in every situation. It dries transparent to form a long lasting invisible bond in seconds.
Now with its NEW formula, Loctite Super Glue Liquid is resistant to all conditions:

Water and dishwashers
Shock
Temperatures from -50°C up to 120°C
Recommended on:

China, Porcelain, Metal, Rubber, Leather, Wood, Plastic (except PE/PP), Paper.

Control
Easy grip squeeze bottle for pin point applications and hard to reach places. To open, twist cap clockwise until clicking stops then turn anti-clockwise. Now: temperature, water and shock resistant!

When holding the surfaces together, do not move the parts until set.
Multi-use liquid superglue, ideal on non-porous surfaces
Water and dishwasher resistant
Shock resistant
Temperature resistant (from -50°C up to 120°C)
Bonds in seconds
Withstands heavy loads
Dries transparent
Easy to open, self-piercing and anti-clog cap
Choice of applicators - anti-spill / easy grip / long nozzle / brush-on
Suitable for use on most surfaces*
Solvent free
*Except polyethylene (PE), polypropylene (PP), car glass, Styropor® and synthetic fibres.
Read More
Step by Step



Ensure surfaces to be joined are clean, completely dry and close fitting.


Twist cap clockwise until it locks, then unscrew in an anti-clockwise direction to open.


Carefully squeeze a small drop onto one surface. Press the surfaces together and hold until set.


Replace the cap immediately and store upright in a cool dry place.